Why Are Horse Girls
Charting the Giddy-Up Energy from the Girl Next Door to Gucci
The first urban dictionary entry for "horse girl" dates back to 2006: she loves horses and draws them on her binder. Over the years, the moniker has come to signify more than just a tween hippophile sporting a Shetland pony sweater with thoroughbred stickers on her school supplies. Online chatter has coalesced into the archetype of an awkward outsider on the cusp of puberty, with long hair, glasses, and a packed lunch, blissful and unbothered by social norms. She's wholesome and maybe religious, not embarrassed to be wearing a tie dyed T-shirt from church camp when the rest of the eighth grade class is trying to dress like Britney Spears.
As the socially-awkward and introverted among us have proven themselves best prepared for quarantine's self-isolation, the horse girl has emerged as an icon for these alienated times. But even before the stay-at-home orders, as we grew increasingly exhausted by aspirational influencers and their lifestyle porn, the horse girl's clumsy unselfconscious spirit was being celebrated. Case in point: last New York Fashion Week, on the runway at the Collina Strada SS20 show, we saw models in pink pony print. One woman in a Laura Ashley-esque dress and sneakers galloped up and down the grass catwalk on her hands and feet before another mounted her like giddy-up!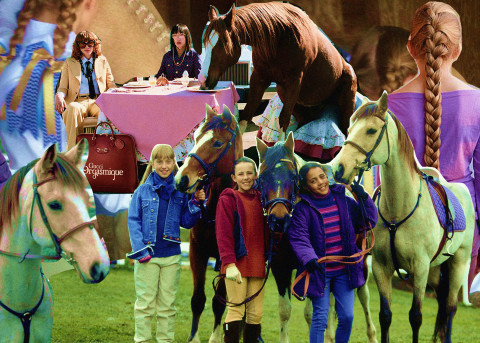 To be clear: horse girls don't need to ride horses. You're more likely to find one at your local Hobby Lobby than a stable. In fact, the cultural rise of the horse girl can be read in concert with the decline of equestrian fashion, which feels incompatible with our class-conscious moment and seemed already on its way out before the pandemic exacerbated already rampant economic inequality. In February, explaining the set design for her AW20 menswear presentation in Milan, Miuccia Prada declared "equestrian is not politically correct." Working with OMA founder Rem Koolhaas she designed a "non-heroic" 2D cardboard cut-out of a 19th-century man-on-horse statue, underscoring the farce of gallantry and foreshadowing the slew of monuments knocked from their pedestals this past spring. Now with teens in the horse world shining a spotlight on the sport's oppressive whiteness, and drawing attention to trainers who support Trump's racist policies while relying on undocumented grooms, equestrian cosplay feels especially gauche. Gucci's SS20 campaign, however, directed by Yorgos Lanthimos, epitomizes fashion's post-equestrian horse girl spirit. While horsebit shoes and purses are prevalent, there's very little riding shown in its photos and accompanying fashion film. Manifesting something along the lines of an awkward horse girl's fantasy of a four-hoofed BFF, the loyal steeds fly out to L.A. with their human pals, making quality bonding time out of everyday activities—going grocery shopping, to the car wash, or for a swim—the horses presented more as equals than valets. Throughout, Lanthimos's signature off-beat affectation tinges the narrative with the you-know-it-when-you-see-it weirdness of what the internet's dubbed "horse girl energy." While much of the campaign's fashion is modest, retro-chic button ups, blazers, and bellbottoms, there's flashes of horniness too: red fishnets, a sheer top with nipple pasties, and bags emblazoned "Orgasmique." In its most beastial moments, a model and mare share an erotic embrace; another horse and girl almost kiss, an apple between their open mouths.
This collision of innocence and suggestion is a part of the horse girl canon. The archetype is a teen girl who hasn't yet learned to be self-conscious of the pubic hair spilling out of her one-piece bathing suit. She's unaware of how adults might (inappropriately) project carnality onto her passion for ponies or her animalistic roleplay. There's an ingrained legacy of seeing horses as symbols of virility—"hung like a horse"—and potential disruptors of young women's virtue. In 1382 "Good Queen Anne" journeyed to England from modern day Czech Republic atop a horse in a special padded chair that hung both legs over one side to ensure a virgin marriage to King Richard. For hundreds of years, Western women were forced to ride sidesaddle so they didn't break their hymens, a required practice that extended into the 20th century. Even today there's speculation that horse girls' enthusiasm for the equine species comes from saddle-induced arousal. From Ginuwine's 1996 R&B smash "Pony" to the Weekend's recent lyrics about ex Bella Hadid— "you were equestrian / so ride it like a champion"—horses have stayed a go-to sexual innuendo in pop music. And I can't lie, I've always found shades of Fruedian displacement in pencil drawings of horses from those Lee Hammond-style how-to manuals, rendering stallions' veiny muscles in meticulous detail—a level of fetish on par with Tom of Finland illustrations. Especially phallic is the horse in three-quarter-view, its head and neck disembodied.There are people who sexually desire horses. But much less taboo than zoophilia is the kind of eroticization we see with naked women on horseback in mainstream magazines. From Gisele Bündchen for at the turn of the millennium, to Emily Ratajkowski for a decade and a half later, it's pretty much the same static fantasy. Characterized by Rubenesque flesh and long flowing hair, these images trace their roots back to 16th-century paintings of Lady Godiva who, legend has it, was a true woman of the people, riding nude through the city in exchange for her husband lowering taxes.Lady Godiva isn't the only horse girl who could be called a progressive. Teen climate change activist Greta Thunberg has been identified as a horse girl and comedian Jaboukie White prophesied, "America's next president will be a socialist horse girl." The ecuyères, daredevil horsewomen of the belle époque, told the story of their period's changing gender and class dynamics. In post-revolution France, the circus democratized aristocratic military traditions like dressage, making fancy footwork and trick-riding carnivalesque entertainment for the working classes. And at the turn of the 20th century, horsewomanship was a means to financial independence—some ecuyères came from nothing, others were raised comfortably then joined the circus as a way to make a living following a divorce or after their fathers went broke. Today, while the equestrian community reckons with its insularity and privilege, Black riders like the Compton Cowboys are gaining visibility showing up at protests on horseback. As we face the problems of our era head on from racial injustice to climate change, big horse girl energy means a disregard for social norms, always an asset in the fight for radical change.The transformative potential of horse girl energy, however, doesn't stop at hippophilia or an earnest outsider disposition galvanizing progressive behavior beyond the status quo. There's an offshoot of horse girls who yearn for more chaotic cross-species mutation, i.e. literally becoming a horse—accounts of grade schoolers who, potentially pining for green pastures instead of playground bullies, pretended to eat grass and even bite people—quarantine memes riffing on reports of teens dressing up as old ladies in face masks to buy alcohol, alleging "me but dressed up as a horse to buy ketamine." There's in fact a whole genre of memes about morphing into a horse to access ketamine, a horse-tranquilizer-cum-street-drug (also being tested as depression treatment) whose recreational users revel in its dissociative effects. If horse girls are a personification of alienation, ketamine is about leaning into that alienation. Whether we're changing the world, or in the meantime before it changes, just trying to cope and escape, horse girl energy is about embracing your weirdo self, unhinged and unbothered, because, to echo Jiddu Krishnamurti, in a sick society who wants to be well-adjusted anyway.